Testimonials
Over 91% of Clients that start with RW&C stay with RW&C!
Client Retention is a very telling statistic. Retention rate speaks to the quality and performance of the RW&C program. RW&C's structured literacy programming and approach works! Check out the charts below.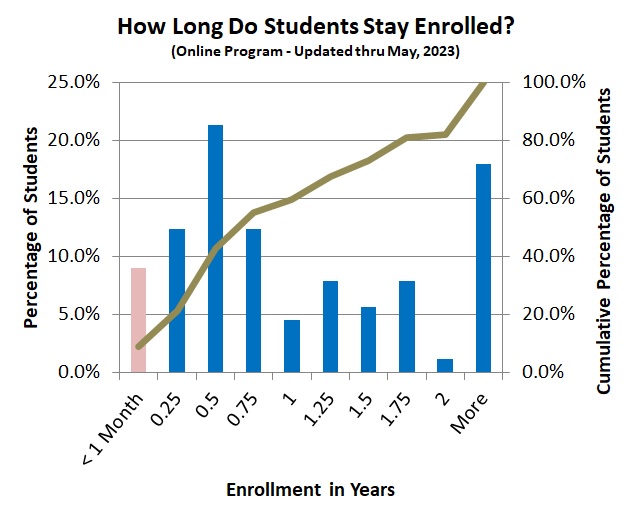 ---
At RW&C, Results Matter! RW&C's program is Proven, Structured, and Effective!
RW&C utilizes standardize testing to assess Client progress and program efficacy.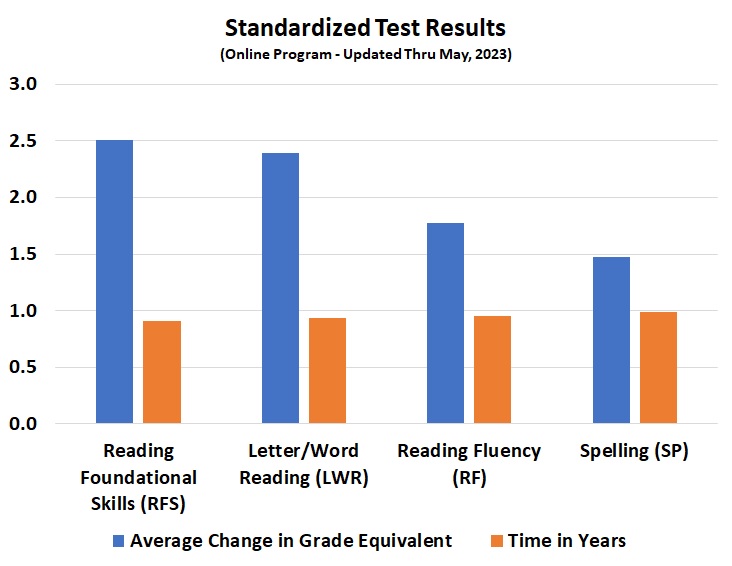 Note: The above chart reflects the average change in grade equivalent. The performance of each individual student will vary based on ability, needs, and study habits.
---
Teletherapy Testimonials
"Student's reading fluency has improved ten-fold! I have been so impressed with his progress in this area! He is currently in one of the highest level novel studies during our historical fiction unit. He is proving that he should be part of this advanced group. His literary responses are detailed and this shows good comprehension. When he was given a school-wide reading assessment, his scores were above the fifth grade standards."
"Student is making excellent progress in language arts. It is as if a literary lightbulb has gone off in his head. Recently, student participated in a classroom spelling bee and was one of the top two finalists!"
(Note: Student transitioned from In-Person to Teletherapy Service.)
5th Grade Teacher – Phoenix, AZ
---
"My son's progress has been astonishing and we attribute a lot of it to Becky personally. Her connection with him has truly changed the course of his life in that now he can achieve academic success in accordance with his abilities without the significant barrier dyslexia presented because of being able to integrate the tools taught to him. I'm convinced it we hadn't found Becky that my son could have been just another struggling kid who ultimately convinced himself he was too dumb to succeed, he's an absolute model of your starfish story, she 'made a difference to that one!'"
"The instruction program you are doing has been the difference between being a struggling kid at the bottom of his class and a thriving reader at the top, and years ahead of the benchmarks from years behind, literally."
"We've just been thrilled with the results our son received from your service. Thank you. My son's teacher has been impressed enough to recommend you to some other families based upon the results we've seen."

Student Parent – Monterey, CA
---
"Prior to working with your office my son worked with a tutor during the summers. He had the same tutor two summers in a row. During the 2nd summer, after only a few months of working with RW&C teletherapy, the tutor mentioned there was a night and day difference in my son's reading abilities and mentioned that he has finally climbed the mountain and overcome his challenges which is due to the RW&C teletherapy program and that his confidence level has dramatically improved. He is successful with the tools you have provided."
"After just 3 months, my son's teacher saw a dramatic improvement in how many words per minute he read along with increased accuracy. His teacher mentioned that whatever we were doing at home was showing in the classroom…"
Student Parent – Decatur, IL

---
"After working with RW&C, my 4th grade son did a great job on DIBELS end of year assessment at school; he did so well, I had to double check the name to make sure it was my son's score! I am so proud of his hard work, thank you for giving him the gift of reading!"
(Note: Student transitioned from In-Person to Teletherapy Service.)
Student Parent – Phoenix, AZ

---
"I wanted to let you know what a Godsend you are to my family. My son, 8th grade, spelling is improving significantly. He wrote a notebooking page for history the other day that was a page long and had no misspelled words in it. That has never happened before!! We are getting such positive results and I thank you so much for that! Blessings!"
"My 2nd grade daughter started at a pre-primer level and in four months is now reading the Magic Tree House books! … You are a huge blessing to our family and we are truly grateful."
Homeschool Parent – South Texas

---
"After 2 months of working with you, our 3rd grade daughter got a "Star Reader" Award from her teacher for making the most progress in reading in her class. Thank you so much! We're finally seeing light at the end of the dark tunnel. Thank you again so much!"
Student Parent – Land O' Lakes, FL

---
"I am noticing a huge difference in our 3rd grade daughter's confidence and attitude toward school as well as her willingness to ask more questions. She went from getting N's to getting an A last week on her writing assignment. Thank you so much for making her feel good about learning again!!!!"
Student Parent – Odessa, FL

---
"This is the first time my 4th grade daughter has ever gotten straight A's on her report card! We are so proud of all her hard work. Thank you for your expertise in helping my bright, dyslexic child experience success."
"I just wanted to thank you… Honestly, we can't thank you enough… In the beginning of 4 grade, student tested at a 2.9 reading level… This year in 5th, she's a 5.0+ grade level in reading and comprehension. We are very proud of her. While reading is not her favorite thing, she uses the tools you gave her everyday and has even passed a few things along in class helping other kids. She participated in sports his year. She has kept her grades up. Up enough to make 2nd honors at her school. So Proud of my girl."
Student Parent – Havana, IL

---
"Great news to share, my 2nd grade daughter went from lowest reading group to the top reading group during the time she worked with RW&C! She is so happy!"
Student Parent – Temecula, CA

---
"RW&C has been very effective in helping my 2nd grader become a successful reader and her spelling has improved dramatically! Her private school teacher asked what we were doing because in the last few months she has noticed a huge improvement in our daughters reading and spelling. Her reading scores on DIBLES and other test drastically improved from the fall scores."
Student Parent – Albany, OR

---
"My gifted eighth grade daughter said this is the first time someone has been able to help her understand reading and spelling instead of memorizing rules. She is so excited she got accepted to her high school of choice and qualified for honors classes! This would not have been possible without your excellent program, thank you for this wonderful gift to our family."
Student Parent – East Shore, NJ

---
"RW&C was very effective in helping my 5th grade son improve his reading and spelling skills, his teachers have been impressed with his progress. Thank you!"
Student Parent – Lagos, Nigeria

---
"Our son was not able to earn the minimal score on the DIBELS Oral Reading Fluency test in the third quarter of 2nd grade. After two months of working with your program, he took the DIBELS and read 42 real words per minute and surpassed his nonsense word reading goal by doubling it! We know he needs more help but he is on the right path thanks to your program."
Student Parent – Kailua, HI
---
In-Person Testimonials
---
"I have referred students with dyslexia to Timmie Murphy because of her deep understanding of reading disorders and evidenced-based remediation methods. Timmie is professional, ethical, highly-trained, experienced, and results oriented."
Speech-Language Pathologist – Tulsa OK and Phoenix AZ
---
"At age 5, my grandson's preschool teacher was concerned about his difficulty in learning letter sounds and his reversals in printing letters. After only a few months of tutoring with Timmie Murphy, he began decoding simple words and reading simple books. Now almost a year later, he is a proficient kindergarten reader who loves to read. I am astounded by the progress he has made under Timmie Murphy's tutelage. As a retired reading teacher and elementary school principal, I heartily endorse Timmie Murphy for children experiencing reading and writing difficulties."
Retired Reading Teacher and Elementary School Principal – Tempe AZ

---
"After receiving the Neuropsychologist evaluation, I am now convinced that the only reason my son has learned to read was because of the reading intervention Timmie Murphy has done with him and all her dedicated hard work. Thank you, Thank you, Thank you!"
Student Parent – Phoenix AZ
---
"…as an educator I am keenly aware that it is sometimes necessary to individually support students in order for them to increase achievement in their school setting. Timmie works with students, parents, and teachers to develop reading and comprehension skills that are then transferred to content areas. Timmie uses best practices and research based methodologies to help assist students in school."
Student Parent – Phoenix AZ
---
"Timmie Murphy has worked with my son for the last year and a half. In that time I have seen measurable improvement in his reading abilities and his decoding abilities ….. I am very impressed with the program she uses with my son ..… I highly recommend Timmie. The one-on-one instruction, for a child that is struggling, is in my opinion the only way to go. My son was so frustrated and embarrassed to read in front of the class he would just shut down, with Timmie he isn't afraid of being looked at, and he can just focus on what he needs to do."
Student Parent – Chandler AZ
---
"…and I would like to convey our sincere appreciation for everything you have done for our daughter, we were under the impression she was being lazy and did not want to take the time to concentrate on reading. We don't think we could have made a better decision than to use you for this challenge. We have been thrilled with the progress our daughter has made. The level of communication and attention you give to her and us has been phenomenal. We fully endorse your program and are forever thankful for the help you have provided."
Student Parent – Phoenix AZ
---
"I truly believe that you have made a life-changing difference in our daughter's academic performance…Reading indeed is essential to every successful thing we do. Since your knowledge of this subject matter is impeccable, we have been very fortunate to have you as student's coach and most of all your inspiration and guidance have been the driving force for the change in her mindset. I truly appreciate the support and care you have shown for student and our family. Thank you."
Student Parent – Phoenix, AZ
---